The eighth "discourse in contemporary China studies" seminar in August 2015 to August 21 solstice held successfully 24 in Inner Mongolia university of technology.The meeting by Inner Mongolia university of technology school of foreign languages, foreign languages institute of Inner Mongolia university, hangzhou normal university, discourse and cultural research center and zhejiang university jointly organized by discourse in contemporary China research center, attracted more than 60 universities across the country hundreds of experts and scholars participate in.Hangzhou normal university, foreign languages institute professor shi-xu became chairman of the general assembly and the keynote speech, professor qi-ping Yin forum and delivered a keynote speech.
Meeting around the study of contemporary Chinese discourse theory, category and method on the discussion, the spread of foreign words in contemporary China, the contemporary Chinese literary discourse, including minority literature, cross-cultural comparison, industry discourse in contemporary China, as well as the ecological environment of discourse in contemporary China, and other fields.Twelve keynote speaker respectively cultural discourse, on the south China sea dispute minority discourse, native Chinese pragmatics theory heralded words, defense issues such as a deeply.
Among them, professor shi-xu in the discourse of "defense battle - China and the United States defence white paper in 2015 words contrast research", reveals the evaluation between China and the characteristics and advantages and disadvantages of national and international security concept, strategic relationship between the two militaries, our words for the relevance, effectiveness of the United States, and China's defence white paper in the future should pay attention to the problem.Qi-ping Yin, a professor at the surrounding community of conversation, words, "" three key words, chose the different historical period of the British writer, examining how they form of using the session to imagine and shape the community, in order to provide reference to contemporary Chinese discourse studies.A question-and-answer session, delegates topics of common interest, positive interaction with a scholar, collisions spark of thinking, he staggered and playfully.
Panel discussion at the meeting, the scholars actively frankly present their latest achievements of the studies on the discourse in China, or they put forward macro about methodology framework, or micro studies focus on the case, the content involves the minority discourse, defense discourse, professional words, hot words, special topic and theoretical research, presents the academic attitude of schools of thought contend.
This conference from different academic background such as language, communication, Chinese discourse studies scholars have provided a good platform for the dialogue, showing the discourse study deep realistic and humanities connotation, the academic discourse of hangzhou normal university research innovation and development.The participating experts and scholars have deep love for discourse research, grasps the same academic concept, build a Chinese road, crossover, open, forward-looking, inclusive of discourse academic feast!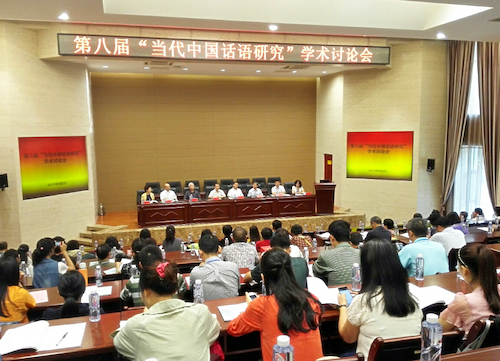 The eighth "discourse in contemporary China studies" seminar on-site
Wen figure/Xie Xiuting